Welcome To Bali
Dear Valued Visitors...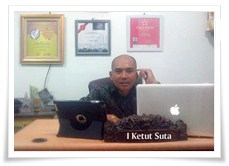 On behalf of Bali Destination Guide by SUTATOUR.com we would like to extend our warm welcome to Bali, the tropical paradise. The last of millenium with thousand temples, shined by the morning sun of the world, Bali is an island of God in paradise, that is perfect destination for your holiday.

We offer a great of Balinese culture, sightseeing, and adventure tours with high quality service and fair price that means there is no hidden fees, no trap and no cheating.

Please email us at suta @ sutatour.com or using contact form to ensure your reservation.
More Information PLEASE CALL +62 (361)
466783, 462666, 466665
mobile phone 081239606665 or 082324456789
Notice: Please call as by yourself & speak to us directly, to get true information and avoid disappointment.
VERY IMPORTANT NOTE:
If you book our SUTATOUR product through your hotel staff, kindly CALL US again to know about your booking condition and get our CONFIDENTIAL confirmation number. We have many complain from our clients, because they don't go and booked through us.
TOUR CONDITIONS:
Tour Price Included: New Car/Van with full air conditioned, Experience Bali Tour Guide and Bali Driver, Entrance fee or ticket, local donation, ticket Bali entertainment guide (dance performance), free sarong for visiting the temple, Bali food guide / meal (lunch/dinner based on tour itineraries).
Transparant Price, that mean no more charge if you find cheapest price than ours you might thinking of the service. Some time do not realize that some tour programs has been skip. In order to reduce ticket expenses.
Each tour are in private that means there is no other participant will be joining the tour. Just only you and your companion.
Payment can be done at time of hotel pick up we accept cash either in US Dollar, Rupiah, AUS Dollar, Euro, or other currencies based on daily exchange rate.

Select Our Programs:
About Bali Island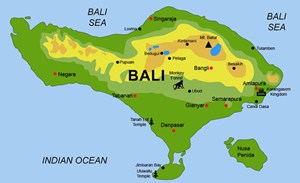 Bali Island is one of the small island below Indonesian archipelago. As one provincy, Bali devide as 9 regency. Bali Island known as "The Island of God" where religion is the source of traditional customs in everyday life. A vibrant culture, unique Bali arts, Bali ceremonies, a gentle friendly people and spectacular scenery make Bali Island as one of the primer travel destination in the world.
Bali population of over 3,000,000 souls over the whole island, including those in the smaller island of Nusa Penida Bali, Nusa Ceningan Bali, Nusa Lembongan Bali, Serangan Bali, and Menjangan Island Bali. Most of people in Bali sland (90%) are Bali Hindu religion, and others are Catholic, Protestant, Moslem and Buddhist but those religions are living on harmony. The Hinduism in Bali mixed with local tradition and culture. Almost everyday you can find Bali ceremony or Bali festival.
Bali Island has a tropical monsoon climate with pleasant day temperatures between 20 to 30 degrees Celcius or 68 to 93 Fahrenheit. Majority the people in Bali work in agriculture and tourism industry. The mean crove in Bali is a rice. The life style in Bali is always related to "Tri Hita Karana" a three partite concept that include the spiritual relationship between human, God, and their environment.
Bali Travel Tips
For safety, if you going out from your hotel specially at night time, better not wearing to much accessories. Put your important things at hotel safety box.
Change your money at a reputable looking location, use your own (or the hotel's calculator) before changing!
Indonesian currency is called Rupiah (Rp). The rupiah notes are 100, 500, 1.000, 5.000, 10.000, 20.000, 50.000, 100.000
If you would like make a booking for the tour, please check carefully you do the right tour operator. And check all of your belonging before leaving some places.